Skip to Content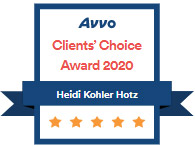 Responsive, Well Prepared, and Organized
I hired Heidi based on the reviews. I was in a bad spot, I had fired my first attorney after a year and it was late in the process. Although the discovery period had ended and a Pendente Lite order was issued, she accepted my case. After numerous attempts to settle, motions, a deposition, and many letters, my case went to trial. Throughout the divorce process, Heidi was responsive, well prepared, and organized. She was fair and reasonable about fees and controlling costs. Even a judge pointed this out as "refreshing" during a motion for sanctions and attorney's fees we filed against the other party and won. In a case as complex and contentious as mine, she had the wonderful ability to recall hundreds of emails, text messages, and financial records that I had provided. Her knowledge of family law and Maryland rules was exceptional. In any divorce case, emotions run high. Fortunately, Heidi did not get caught up in the fray and brought a calming mindset to the whole process. Should I ever think about getting married again, I'm calling Heidi for the prenup!
Highly, Highly Recommended Attorney
"I simply cannot hope to adequately express how much I appreciated Ms. Hotz. Having worked with other attorneys over the years, what stood out most was how incredibly pleasant and caring she was. Other attorneys often seem to feel the need to be imperious and curt to show they are above you, which is demeaning, but Ms. Hotz was consistently a delight to deal with. But being nice wouldn't be worth much if it wasn't matched with equal or greater amounts of legal competence, and Ms. Hotz impressed me again and again with how thorough and knowledgeable she was. And lastly, communication is vital in a relationship with one's attorney and in this area Ms. Hotz amazed me with how responsive she was, always keeping me apprised of every aspect of our case (and, thankfully, also showing true compassion at moments when the challenges we were facing started to overwhelm me). And most important of all, because of her efforts, we prevailed and I finally regained custody of my children! Highly, highly recommended attorney!"
Exceptional in drafting and understanding complicated Domestic Relations Orders
I hired Mr. Hotz to draft a Court Order Acceptable for Processing – A qualified Domestic Relations Order for Federal Employees – to share a portion of my retirement with my former spouse. Once the Order was processed by the Office of Personnel Management and my former spouse and I were receiving the benefits mandated by the Order, Mr. Hotz identified a couple of anomalies in the numbers and he immediately reached out to OPM for clarification. OPM would not respond. So Mr. Hotz worked with the constituent services staff on the offices of both my and my former spouse's Senators and Representatives to get OPM to reconsider their calculations. That got the attention of OPM and our benefits were recalculated per Mr. Hotz's request. Now, both my former spouse and I are receiving more than we were before. Mr. Hotz is exceptional in drafting and understanding the math underlying these complicated Domestic Relations Orders and I highly recommend him to others.
She Is A True Professional and Cares About Her Clients
"I had Heidi represent me in a very important child custody case that meant a lot to me and my family. I am an African American male and she helped me regain custody of my daughter. I was very nervous but Heidi helped calm me down and saw me throughout the process. She was very helpful in my situation. She was always available to talk when I called her, was honest and cared about my situation. She was very organized as well and you can tell this is her passion and she loves helping people. She also speaks great in court and got everything across to the judge that I wanted to be heard. Her rates were very affordable as well which was important to me and I would definitely recommend her services if you find yourself in a similar situation. She is a true professional and cares about her clients and I cant thank her enough for protecting me and my family!"
Above and beyond the call of duty
John was an extraordinary comfort to me as he navigated me through a very upsetting divorce to a mutually acceptable conclusion. He also helped me to get a grasp on my near-crippling debt, and helped me to manage it more effectively. He is an excellent attorney with great integrity. He is intelligent, honest diligent, forthright and hard-working. He was available for me 7 days a week. He went above and beyond the call of duty for us. Mr. Hotz was superb in assessing and solving every issue we encountered. The divorce went ultimately through very smoothly, and my financial life is now well-organized and I am making good progress on my debt. In the end, I believe he saved us tremendous time and money. I can honestly say that hiring Mr. Hotz and H&H LawWorks was among the best decisions I have made in my life. I am grateful to Mr. Hotz for what he did for me and my family and I thank him. I cannot recommend him highly enough.
Excellent Representation
"Ms. Hotz represented me during my separation and divorce. Her professionalism and attention were greatly appreciated. She helped navigate me through the process, was always available, articulated the "legalese" so I could understand it, took her time with me and was always kind. Separation/divorce is not a comfortable process; however, the majority of my anxieties and worries were eased with Ms. Hotz in my corner. Highly recommended. D.A."
I Am Beyond Grateful to Have Had You to Represent Me
Thank you so much, John! I am beyond grateful to have had you to represent me. There are not enough words to describe my appreciation, as it was such a difficult decision for me to make. But you gave me so much information and explained everything in full detail – the pros and the cons – and I'm very appreciative. Thank you so much and I will let you know as soon as the (bigger, thanks to you) insurance check comes in.
Very Professional
"Heidi was very professional throughout the tough experience and I felt I got a fair settlement at the end. Things seemed tough but I always felt better after talking to Heidi. She was very professional in managing the time and breaking out the invoices. I recommend Heidi to anyone going through a tough situation."
QDRO Expert/Great Communicator/HIGHLY Recommend!!
I hired John to handle my QDRO to divide my marital assets in my divorce proceedings. He is extremely knowledgeable and very educated on what I imagine is a very confusing process. He took the time to explain the process to me as we worked through it. My ex-wife's atty was also not familiar with the QDRO system and John was explaining the process to him as well. John is a very highly skilled attorney that has strong client communication skills. I always knew what was going on as well as what would happen next with my case.
Attorneys who specialize in QDROs are not easy to find. I highly recommend John Hotz if you are in need of an attorney to handle a QDRO in a divorce proceeding.
The G.O.A.T (Greatest of all Time)
John is a winner...WE WON! I hired John to represent me in a Social Service Disability Re-consideration claim. From the very beginning, John was professional, courteous, and a great listener. For some reason, other firms declined to take my case...not John. He did not hesitate to accept my case, after listening to my story. John was empathetic to my daily struggles and assured me he would do everything to fight for me. He never promised to win, in fact, John candidly let me know my chances of not winning. SS Disability cases are marathons, not sprints. John was there for every step, every day, and/or whenever needed. He was clear in what he needed from me and his expertise was invaluable in helping me articulate the serious effects of my conditions. Look, we all want a winner; hands down, best quality in a lawyer. Yet, I believe what makes John a winner is his relatability. He gets it and plays no games to achieve the absolute best results for his clients. John will always be "My Guy"!
Extremely Diligent and Worked Hard On My Case
"Heidi helped me win a very contentious custody case against a very contentious ex-spouse. She was sensitive and caring towards my needs and my child's needs, and was extremely diligent and worked hard on my case. She was very good at strategizing for the big picture, and knowing what to focus on and what to put aside. The results were as great as I could have hoped for, and I could not have gotten through this so well without her. She also has been able to advise and help me on other custody and divorce-related matters, so her knowledge base is very wide and useful! I can't recommend her services enough!!"
John Was More Than Great to Work With
"John was more than great to work with. My mother passed away without a will and John was invaluable in counseling my family through the probate process. John saved my mother's home from both a tax sale and a foreclosure. He also helped her estate to avoid a significant amount of other debt. John brought a tremendous amount of practical knowledge to the table – beyond the area of law that we hired him for – and it really helped us to get a great result. We are so glad that we found H&H LawWorks. I would recommend them very highly!"
Detail-Oriented and Committed
"Working with Heidi was a pleasure. Heidi was dedicated, detail-oriented and committed to achieving my end result. Heidi handled our family issues with sensitivity and ensured I was happy with the outcome of our legal proceedings."
Kind, Understanding and Patient
"Thank you for everything. Thank you for being kind, understanding and patient. Thank you for answering every phone call and every email. I will be forever grateful for all of your hard work in my divorce and custody case."
Do you need help settling family legal matters or planning for the future of your estate? Our team is here to represent you and ensure your rights are protected.